INTRODUCTION
Doreen, reaching 23 this year...
Currently working as accounts assistant and studying part-time Dipolma in Management accounting and Finance....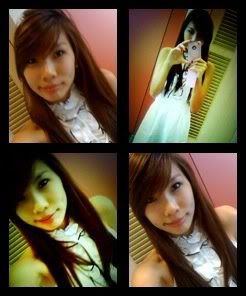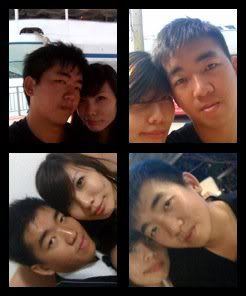 Comments
powered by blogger
06 september 2006

Today my friends jia lin, yy, michelle, jing n hau... They help mi to celebrate my 19 years old birthday at pizza hut.. Feel so surprise when i see the birthday cake.. I feel so pai seh when i sing the birthday song.. But feel so touching when i noe hau make the paper bag de.. Coz i noe last time got some misunderstanding between us... They brought mi a shirt , pouch, mascara n a eye shadow... After tat we went back to school coz we having lessons..

08 september 2006

Today my baobei helping mi to celebrate my birthday, we went to k box to enjoy.. We was late le then we very funny we take bus until marine parade then we take cab go down.. Coz the bus driver drive very slow... Haiz maybe is coz afternoon i kena scare then i vomit once... But it doesn't affect my mood... We went down to bugis to shopping but maybe cox we go there very often until we feel very sian when we go there.. So we went to catch a movie "Little man".. We smuggle a slice of birthday cake in.. That is baobei buy give mi the birthday cake.. Taste so sweet coz baobei give mi two kiss on my cheek..... We take quite a no of pictures on that day..
She n xin huan they all share n buy a bag give mi.. But times pass very fast.. after eating our dinner she went to meet her friend then i went to meet hubby... Feel so bu she de... Then we went to meet his mummy at tm to see phone.. After that we went back to his house to slack.. Until 2359 hubby pass mi my birthday present.. Feel so sweet coz he brought a skirt for mi which no one have brought before... Feel so bu she de cox i need to go hm....

09 september 2006

Today morning went to meet dear dear... Slack at his house until afternoon den we go n buy his k800i.. Around evening he went to my house to eat steamboat he feel so pai seh lor.. but very cute cox my auntie they all like him very much.. Feel so pai seh out of a sudden.. Around 8 plus we cut the birthday cake then my auntie tease him lor.. Then hubby left at 9.30 pm.. haiz feel so she bu de.. but no choice coz he have to go down to clark quay to celebrate his friend birthday... Laogong don't scare i will be yours forever le... Cox u let mi feel very xin fu...

Thanks for giving mi a very unforgetful birthday this year...