INTRODUCTION
Doreen, reaching 23 this year...
Currently working as accounts assistant and studying part-time Dipolma in Management accounting and Finance....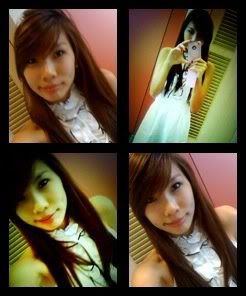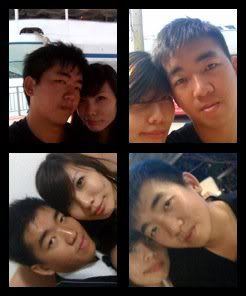 Comments
powered by blogger
Saturday,08 march 2008

Today laogong accompany me to parkway shenton to do my check-up.. Didn't realised that the auntie has already take my blood.. because i don't feel any pain at all.. After that we walk to marine square, haha.. dear help me take a pic.. we was thinking wat to eat for lunch.. So we decided to have pizza hut.. we order two pasta n one seafood platter.. when we ask for bill, we play guessing game, in the end i lose.. So i own you a meal.. After that dear bring me to buy my heels, but we can't find charles n keith.. so dear was a bit tu lan ba.. At last, we find it but last pair.. so we went to city link to see.. it olso left the last pair.. so dear say nvm.. just get that.. Then we went back to marina square, we went to mini toons so surprise to see got 7 zai.. but then don't have plush.. So we ask the person in the end she say suntec got.. But turn out to be out of stock.. sobz.. We meeting adrian n jessie at 4.30 pm to see the leap years. After that we meet eric then we went to lau pa sa to have our dinner.. We intend to find a pub with live band n relax. But all are too crowded so in the end we went to lower selatar to drink n chat there..
Thanks dear for accompany me to check-up,buying the heels n searching 7 zai for me..

Sunday,09 March 2008

Today wake up at 11 plus.. We order mac delivery.. After that dear help baby to bath.. then we go northpoint to see got 7 zai ma.. at last we find it.. i feeling so happy... coz i want 7 zai very long le.. After that we went home le.. Coz dear need to book in by 7pm.. sian.. i was surprise to receive chanel msg.. because of her skin thingy she scare that will get depression n commit sucide.. console her for 40 min plus.. then i call dear to tell him i going to sleep le..

Monday,10 March 2008

Today meet lai pheng to work together.. oops.. Luckily got topics to talk.. it was reali fast we use ard 1 hr to reach marine parade..

Tuesday,11 March 2008

I eat mee siam for lunch.. Dear say he can book out so i meet him for dinner.. I take the same bus as lai pheng.. It is raining so heavy until the window was leaking.. We wanted to eat long john de but turn out too many people then we eat bk.. But turn out we quarrel.. haiz.. but in the end okie le.. haha.. so i sent dear to camp first. sorry dear let you feel so piss off whenever u cry.. Dear i scare one day you will grow tired of me.. maybe i am not a good girlfriend ba.. Haiz..