INTRODUCTION
Doreen, reaching 23 this year...
Currently working as accounts assistant and studying part-time Dipolma in Management accounting and Finance....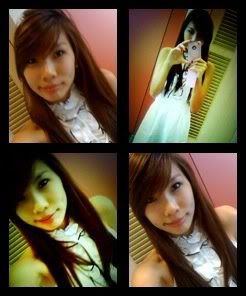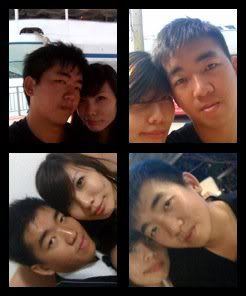 Comments
powered by blogger
Recently i just feel troubled... Cox of my brother.. Why must he do that do mummy... mummy not her money tree.. how can he keep on borrow leh.. Is like not fair to her.. How can he be so selfish.. want mummy and i to repay money to grandpa.. I hate him lor.. But mummy keep on say he is my brother.. Because of him i need to delay my studies.. How can he do that.. I tell mummy that i will have her to pay my grandpa.. But she don wan.. I noe she scare that i will broke.. Tomorrow at least pay day le... I am off tomorrow.. Because judy on.. I feel so tired sometimes i want to buy things i like but now cannot... Because everything i do now i have to think twice... Learn how to roller blade.. almost fall down.. But luckily got zhen to hold onto me.. I didn eat dinner because i buy the salted fish fried rice give him eat i eat sweet potato soup.. but mummy bring two handroll back.. so my dinner was just the two handroll...

24/05/08

Today dear went tekong..Sian.. I managed to talk to him before he went there.. But i was very tired so my talking is like in a sleeping mode.. Wake up at 11 plus cox my baby make a mess.. she got diahorea then step around.. I was very angry.. so i scold her.. I think i noe she olso don mean it de... Later going to dear house help baby to bath.. so hot lor... Later don noe meeting jia lin to go visit jing jing ma.. Although i wan to acc her to the pub but then gt zhi yi ther i will feel being left out.. So i not going with her... In the end we didnt visit zann again.. I was shocked coz jia lin called me, but i put silent mode so i didn't noticed it.. Then when i saw it, i faster gave her a call.. When she picked up she just in a crying voice.. I think she quarrel with zhi yi... Then she just keep on saying vuglarties.. I was trying my best to console her.. She say that i make her feel touched by sms her that time this msg* How can i let you drink so much* This is what friends for.. Don't always be so emo... Let nature tat it course.. believe me if really friends are mean for you, end of the day no matter what happen they will still be there for you..

25/05/08

Later will be going down to the tour agency to collect back the refund.. I ask mummy can accompany me go.. She say ya... is like long time i never go out with her le.. Last time used t stick to her but now got bf, i don noe how to co-ordinate my time.. We went to beach road de hawker centre to eat.. Mummy order mee pok soup,so i ask her want eat fried oyster egg(so long we didn't eat it..) I went the whole hawker i can't find so i ask a stall auntie... she told me is at the level 1.. So i walk all the way down.. At last i find it, Mummy was worried about me. she ask me why so long.. So i told her cox i can't find the stall.. After that we went to take train, mummy saw a old uncle very pitty.. so she ask me to give the uncle two bucks.. the uncle was so gratful... Mummy drop at tampines cox i going to pasir ris to meet dear de famil for dinner to celebrate his dad birthday.. So embrassing.. Uncle keep on take food for me.. He everytime will say " you so thin must eat more" so i just smile at him.. He insist to sent me to granny house, cox i meetin mummy there.. Today olso ke ying birthday.. her birthday cake so special, is a doll. But the dress is make of jelly.. taste not bad.. So happy that i receive dear phone call, he sound so tired.. Hear le feel very xin suah..

26/05/08

Four more days dear will be back.. At last i can hug him, tickle him.. squabbling with him.. make him vomit blood.. oops i think i wont ba.. today lai pheng off, the branch was very quiet, eh cox i don noe wat to say to judy.. So fast is 3.30 today.. But coz end day cox of a customer i short of 10 cents.. in the end my bom she help me search for my voucher then double check my cash, call customer, she say no choice have to report.. i just burst into tears.. will my incentive just go burst.. now i need my incentive.. I just no mood.. after work i just call mummy and tell her.. She ask me be more careful... I will de.. Tomorrow will be a brand new day for me.. No mistakes... i must jia you...