INTRODUCTION
Doreen, reaching 23 this year...
Currently working as accounts assistant and studying part-time Dipolma in Management accounting and Finance....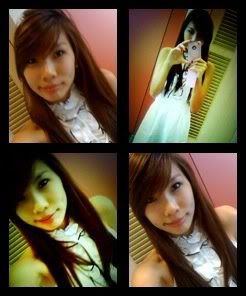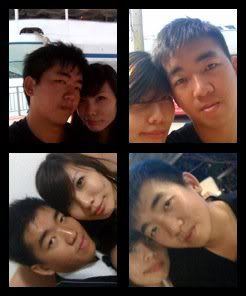 Comments
powered by blogger
06 sEpt 2008

mEEt jIa lin at 2.45pm at toa payoh, when i reach there call her so many times though she will put me up again... i wait for the whole one hour sent her few sms and olso a lot of calls... The last call i give her she at last pick up and ask me to give her 5 min.. When she come she explain to me why was she late.. after that we went to ishop at cinilesiure, to ask the person to teach me how to i use my i touch... was so fan what to eat for lunch... so in the end we went taka to buy finger food to eat... jia lin brought a cake for me... we choose a very long time the cake look declious... going up to singapore flyer to blow the cake... after that she ask me to accompany her to buy perfume so i recommended her escada, hugo boss... then she olso find estee laurer... so after that we walk to tang plaza to take bus 36.. but the bustop is so pack... so jia lin suggest take cab who noes in the end the stupid cab uncle show attitude and chase us out... so we went to take another cab frm lucky plaza.. wow when we reach singapore flyer there.. the q for the tickets is so long.. so zann tell jia lin she will be comin down... but she scare baby troller cannot bring in so i went to ask the security guard over there.. then he say can so i as well ask him about the birthday cake.. he say i can hide it under the stroller... so we went to the yakult garden and sit and wait for zann... didn noe that need to go through so many security checks before can take the rides... at last i am inside le... so we take pictures inside... i can understand why you keep on give attitude... coz u very tired and ur menses suddenly came... malcom is so cute.. although didn get to see sun rise.. but see the light olso not bad.. very nice... so fast 30 min is over, u will never realise that it is over le.. raining so big so we take cab to wisma.. malcom out of a sudden being scare then he keep on crying we was like no ways to make him stop until zann take over... so jia lin and zann accompany me to go buy slippers.. but jia lin face is still so black so i say nevermind them... then zann was saying go mlphosis to see slippers.. that side nicer... so we wanted to go eat fast food but so pack so zann ask me go find dear cox they eating steamboat... so they sent me to wait for the cab... but i didn get to eat anything for dinner cox i wait for the cab at taka for 45 min plus... so i onli eat one filet o fish burger for dinner... so i on call a cab in the end went to ang mo kio hub to find them... but no slot for movies so went back to north point to watch the days.. not really nice.. that the end for my saturday...

07 sept 2008

Morning meet adr they all to go toa payoh sports hall for badminton... after then went to bukit pajang and meet jessie for lunch and slack.. so we sit for around 4 plus we take cab back to dear place.. sleep for a while.. he is so tired.. so we drag till 7.15 then meet my family at tampines for dinner.. so we take cab down who noes they never tell me is which block.. feel a bit angry so we walk over to the coffee shop and find them... the whole dinner auntie keep on being tease and dear at there laugh... the dinner is so happy..

08 sept 2008

i am back to work.. whole day is like so busy.... didn noe that lai pheng came in at 10.30 am.. judy i always have words to tell you, you no need to give me attitude.. and i olso don own you anything... so what u are a senior.... so i sms hui kheng that i will be lending from her the french manicure... so she reply okie.. and hope u will like the present.. i was like present? so fast i am going to be 21 yrs old soon.... dear give me a surprise at 12am he went to the cupboard to take something.. is my present " a agnes b bag" then i tell him i thought u say wednesday then go buy de... But i love it...

09 sEpT 2008

Today wake up at 9plus cox can't sleep... so i do my nails think too long never do le then now not that nice le... then watch show online and wait for dear to wake up... so afternoon we went chong pang cox dear want have a hair cut.. So we eat lunch there.. Went down to taka to buy mooncake... so pack and squeezing walk for quite awhile... last we choose shangri-la hotel.. cox got my favourite white lotus with double yolk.. then dear wanted to buy bird nest de but no stock le so buy green tea de.. like that already cost 80 plus le.. so expensive.. so we went to cinilesiure to take cab to fosters at holland village.. Can't wait to go there.. The amoshpere over there is quite comfortable and cozy.. the food there is nice too.. but a liitle bit expensive olso... too bad i only manage to take a pic on my soup, the rest of the dish didn't manage to snap it.. we stay there till 11 then went home le.. this yr present i receive is all i like it de... from jia lin they all is a cake and a perfume.. small uncle and his wife is a itouch.. mummy, grandpa, auntie, dear mummy is red packet..