INTRODUCTION
Doreen, reaching 23 this year...
Currently working as accounts assistant and studying part-time Dipolma in Management accounting and Finance....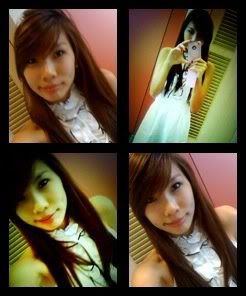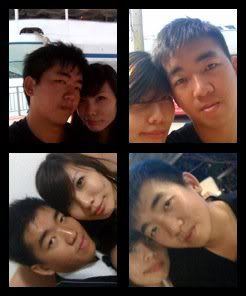 Comments
powered by blogger
Tuesday 01 June 2010. When i saw my phone today morning @ 8.01 am. I suddenly thought of my hubby. Times files we have been through so many things and overcome all the good and bad times together. Went to pasir pajang for lunch with Frances , Irene , Crystal and Cherrical. Sometimes i wondering they are wearing a mask towards me. Today dear was busy the whole day so we didnt sms much. I at last finish going through AEWS workshop 2008-2009. FINALLY... I drop dear a sms an tell him abouth my last week project question that i have done alone . i score 8/10 so i ask him did i do well and he say YES. I am so happy that my dear praised me.

I going to sleep soon.. feeling tired.. eyes is closing gonna do some sit ups and apply cream. good nite my dear...

I like this songs alot.

[al:静茹&情歌 - 别再为他流泪]
你走了太久一定很累
他错了不该你来面对
离开他就好 就算了
心情很干脆
他其实没有那么绝对
远一点你就看出真伪
离开他不等于你的世界会崩溃
转个弯你还能飞
就别再为他流泪
别再让他操控你的伤悲
就算有一点愚昧 一点点后悔
也不要太狼狈
他不值得你的泪
把那遗憾留在大雨的街
你曾在迷失的旅途中盲目追
以后为自己醉
每段感情都非常珍贵
他的好你就放在心扉
记得有个人曾让你 那样的心醉
你笑了照亮夜幕的黑
什么梦都不比你的美
多少年以后想起他还有些体会
那些你已无所谓
就别再为他流泪
别再让他操控你的伤悲
就算有一点愚昧 一点点后悔
也不要太狼狈
他不值得你的泪
把那遗憾留在大雨的街
你曾在迷失的旅途中盲目追
以后为自己醉
以后管他是谁


Today is Sunday ,30 may 2010 is our 3 years anniversary. Dear had camera lesson from 2pm to 4pm. so we went to Chong pang de Tai Guo Xiao Chi. Their food is nice, we order 1 medium pineapple rice, 1 plate garlic kai lan, 1 plate honey chicken, 1 plate hotplate tofu and last the tasty Ceral prawn.. Make dear a photo album which has all the pics that we took.

Friday i and hubby went down to shop for Marvin daughter (Chloe). a very sweet and nice name. takashima was so crowded so many people was at the kids section. I saw one shirt from Rauph Lauren so nice, but then is to expensive. We went in to Gucci and LV. Dear was eye on a LV cherry red purse wanted to brought for me . it cost SGD 1,130. so expensive. i told dear don have to buy give me is too expensive. After that we went to far east , i brought a tube and a bag. Dear brought me two dresses from Dressculture. After that we agreed to have Pontian wonton noodles for dinner.

Saturday went to Marina Barriage in the afternoon for hubby company potluck. so many people were flying kite there. it is windy but then is too hot. i and dear was sweating like sauna. haha. After that we went to Chloe one year old birthday. Sat for awhile and we move to Bugis for dinner ate steamboat, then we went to Paullaner to chill and had a 0.5 beer. the beer is nice and smooth.